We're Getting Mutants in the MCU - The Loop
Play Sound
First Lieutenant Tsurumi will scold me!
This article is outdated, poorly written or lacks important information. It should be reworked!
Abashiri convicts are 24 criminals that have the map leading to the Ainu treasure tattooed onto their skins by Noppera-Bou. They were imprisoned at the Abashiri Prison, but escaped when they were transported to another facility. Since then, the prisoners have hidden all over Hokkaido.
History
[
]
In the olden days, there was a lot of gold in the rivers of Hokkaido—it was a gold rush. At that time, a group of Ainu was secretly gathering gold to fight back against the Japanese that had stolen their lands and forbidden fishing and hunting. The group gathered a lot of gold, which amounted to 20 kan (75 kg), but it all was stolen by one man who killed them all. The man hid the gold somewhere in Hokkaido, but then was caught by the police, sentenced to death, and sent to live the rest of his days in Abashiri Prison. The Ainu killer was trying to communicate the location of the hidden gold to his friends from the outside, but the prison guards would steal the letters he wrote. He couldn't tell a soul about it, as everyone wanted the gold and some guards would go as far as cut the tendon on the man's leg to ensure he never escapes the prison without telling them where he hid the gold.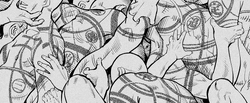 The man selected 24 fellow convicts to carry parts of a cryptic map tattooed on their skins (that only had meaning when all tattoos were combined together) and promised them that he will split half the gold with anyone who manages to escape. He instructed the prisoners to communicate with his allies in Otaru.
The police and the military were also interested in gold. After some soldiers heard the rumors of the the tattoos, they forced the prison to give out the prisoners under the pretext of transporting them to another place. However, the prisoners managed to kill the guards and escaped into the woods. Some of the former convicts went on their separate ways, disinterested in the gold, all that while Noppera-Bou remains in prison.
Tattooed Prisoners
[
]
Convict
First appearance
Crime

Takechiyo Gotou
Chapter 1
Episode 1
Murder of his wife and child.

Kanjirou Kasahara
Chapter 3
Episode 2
Unknown.

Yoshitake Shiraishi
Chapter 4
Episode 2
Theft, numerous escapes from prisons.

Toshizou Hijikata
Chapter 7
Episode 1
Political prisoner.

Tatsuma Ushiyama
Chapter 12
Episode 3
Murder of his judo master and massacre of the other 10 students.

Mutsuo Tsuyama
Chapter 19
Episode 5
Murder of 33 people.

Tetsuzou Nihei
Chapter 22
Episode 5
Murder of poachers.

Kazuo Henmi
Chapter 37
Episode 8
Murder of more than 100 people.

Kano Ienaga
Chapter 50
Episode 11
Murder of her patients.

Tetsuo Takarai
Chapter 56
Episode 12
Unknown.

Kiichirou Wakayama
Chapter 65
OVA 3
Unknown; likely, leading yakuza, a criminal organization, gambling.

Soroku Funabashi
Chapter 72
Episode 12
Unknown.

Kiyohiro Suzukawa
Chapter 87
Episode 16
Identity theft, marriage fraud, scamming.

Keiichirou Sakamoto
Chapter 102
Robbery, murder.

Shiton Anehata
Chapter 108
OVA 4
Bestiality, animal slaughter.

Toni Anji
Chapter 119
Episode 20
Unknown.

Maiharu Gansoku
Chapter 143
Episode 25
Dojoyaburi (visiting a rival martial arts school in order to challenge its members), further violence.

Youichirou
Chapter 151
Episode 32
Murder.

Waichirou Sekiya
Chapter 172
Murder of 30 people by poisoning.

Heita Matsuda
Chapter 217
Murder.

Fusatarou Oosawa
Chapter 223
Murder, theft.

Michael Ostrog
Chapter 225
Murder.

Keiji Ueji
Chapter 232
Child murder.

Toshiyuki Kadokura
Chapter 117
Episode 20
None; Kadokura agreed to be tattooed by Wilk after the mass escape of other tattooed convicts.
[

]