Jurassic World: Dominion Dominates Fandom Wikis - The Loop
Play Sound
Asirpa (アシㇼパ) is a young Ainu huntress and the deuteragonist of Golden Kamuy series. After Asirpa saves Sugimoto's life and learns the story of the hidden gold, the two start their search for the treasure.
Appearance
Asirpa is a short Ainu girl with a small frame. She has dark hair which reaches the middle of her back, and blue eyes with tints of green, the same eyes her father had.
Asirpa wears a white Ainu robe made from bark called attus, complete with traditional swirling motif at the edges of the cloth over a purple band. Underneath she wears a purple kimono, which is tucked at the back. Asirpa wears dark leggings and deerskin boots called yukker. In cold weather Asirpa puts on a wolf fur mantle to cover herself in the wild.
She also wears a number of accessories, most notably a purple embroidered headband with swirling motif called matanpushi, matching tekunpe hand coverings, and two ninkari earrings that she received as heirloom from her mother.[4] In warmer weather, she can be seen wearing a rekutunpe necklace.
Asirpa carries many items, most notably her longbow and quiver, but also several knives in carved sheathes.
Spoiler warning:
Significant plot details about Golden Kamuy finale follow.
Three years later, Asirpa is shown to have grown quite a bit. At 16 years old, she is tall enough to reach Sugimoto's shoulder height.
Significant plot details about Golden Kamuy finale end here.
Personality
Asirpa is an independent and capable young girl. She initially appears cold and withdrawn but that quickly changes once she warms up to the other person and exposes a more jovial and childish side.
As revealed by her uncle Makanakkuru, Asirpa changed after her father died. After being left alone, Asirpa relied on Retar and spent times with him in the mountains. One night, Retar left Asirpa while she begged the wolf to stay. Asirpa broke down in tears, being abandoned once again. Since that day she rarely smiled until she befriended Sugimoto; Makanakkuru notes that spending time with Sugimoto has given Asirpa back her smile. However, she still struggles with the fear of being abandoned, uncertain whether Sugimoto still stays by her side if they find the gold.
When with her friends and family, Asirpa is a playful and cheerful girl. She enjoys cooking and is enthusiastic about hunting. She occasionally likes to tease others, especially Sugimoto and Shiraishi.
As a hunter, Asirpa is aware of the cruelty of nature. She knows that in the wilderness weakness leads to death and thus is very pragmatic about survival. She acts mature and serious when hunting her prey or discussing the plans of finding the gold. However, Asirpa has strict principles and beliefs, as she refuses to murder people even if her life is at stake.
Asirpa deeply respects the Ainu culture. The Ainu revere nature and consider animals godlike beings kamuy, so Asirpa always honors her prey and everything she uses as gifts from the kamuy. Asirpa will never eat the meat from a man-killing animal, believing it to be a wen kamuy. However, she considers herself a new kind of Ainu woman and occasionally dismisses Ainu customs such as tattooing her mouth or believing in fortune-telling.
More than anything, Asirpa wants to protect the Ainu and preserve her people's independence. After her journey to Karafuto and the many revelations that followed, she has decided to find the gold to assure that the Ainu and their culture will never be erased or forgotten.
Abilities
Equipment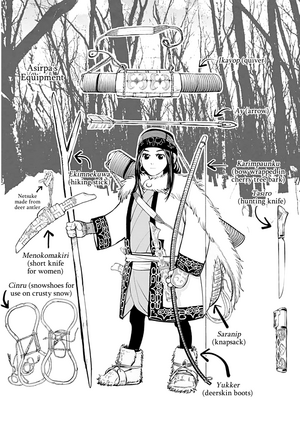 Chapter Appearances
Quotes
Trivia
References