Golden Kamuy (ゴールデンカムイ, Gōruden Kamui) is a manga written and illustrated by mangaka Satoru Noda. It began its serialization on August 21st, 2014 in Weekly Young Jump and is published by Shueisha Inc. There are currently 24 volumes in tankōbon format in Japanese, and 19 volumes translated in English. Alongside Satoru Noda, there are several people working on this manga as consultants and editors: managing editor Hakkou Ookuma, Ainu language supervisor Hiroshi Nakagawa, and Russian language supervisor Eugenio Uzhinin.
In 2018 Golden Kamuy manga received an anime adaptation by GENO Studio. On April 9th, 2018 the first episode of the anime series premiered. Currently, the anime has 3 seasons with 36 episodes and 4 OVAs released.
To celebrate the Respect for the Aged Day, Satoru Noda released a spin-off manga Silver Kamuy where Golden Kamuy characters are reimagined as elderly people.
Story
[
]
In Hokkaido, the far northern lands of Japan, Saichi Sugimoto survived the Russo-Japanese War of the Meiji Era. Nicknamed "Sugimoto the Immortal" during the war, he now seeks the riches promised by the gold rush, in hopes of saving the widow of his now-deceased comrade. During his hunt for gold, he finds out about a massive stash of gold hidden by a criminal. Partnering with Asirpa, an Ainu girl who saves his life from the harsh climate of the north, he battles against the criminals, the military, and nature itself to find the treasure!
Chapters and Volumes
[
]
See:
Reception
[
]
In 2018, Golden Kamuy sold 5 million copies in print.[1] In December 2020, more than 15 million copies of the manga were in print.[2] As of June 2021, the number of sold copies exceeds 16 million.[3]
In 2019, The British Museum in London used an image of Asirpa to promote the Manga Exhibit:
"
Golden Kamuy is a relatively new manga that has published more than 9 million copies and is now a popular anime translated into English. Written by Noda Satoru, it is a dramatic action tale that takes place in the early 1900s on the northern island of Hokkaido. The hero, Sugimoto teams up with a local Ainu girl named Asirpa to attempt to find gold stolen from the indigenous Ainu community in a deadly race with the Imperial Japanese 7th Division Army and other assorted and often unsavory characters. Noda, a Hokkaido native himself, told me how he researched all aspects of the manga including eating the food portrayed. Both the manga and the anime are gripping, as well as beautiful and educational – you learn about Hokkaido and Ainu customs as you become absorbed in the story.
"

— Nicole Rousmaniere, The British Museum[4]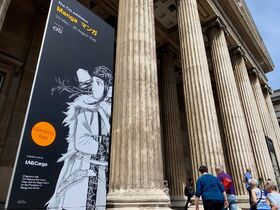 Golden Kamuy has been nominated for multiple awards:
Gallery
[
]
Video
[
]
External Links
[
]
References
[
]
[

]